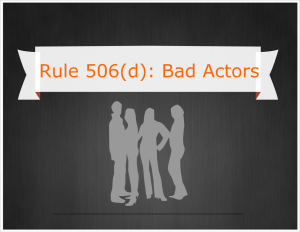 As a continuation of last week's entry, this blog focuses on other considerations for general solicitation under Rule 506(d) of Regulation D, including the condition that the issuer takes reasonable care to verify that each person involved in the operation and distribution of the private fund is not a "bad actor."
According to the Securities and Exchange Commission's ("SEC's") final rule, a "bad actor" is defined as "the issuer or other relevant persons (such as underwriters, placement agents and the directors, officers and significant shareholders of the issuer) that have been convicted of, or are subject to court or administrative sanctions for, securities fraud or other violations of specific laws."
As a result of Rule 506(d), the "bad actor" disqualification rule, an offering is disqualified from relying on Rule 506(b) or 506(c) of Regulation D if the issuer, or any other person covered by Rule 506(d), are found to be "bad actors." However, as described by the SEC in its final rule, an exception from disqualification exists for those issuers of an offering who establish that they did not know, and can demonstrate their exercise of reasonable care in that they could not have known, that there was a presence or participation of a "bad actor." To establish "reasonable care" and rely upon this exemption, the issuer must make a "factual inquiry" into whether any disqualification exists. Evaluation of this standard will be based on the facts and circumstances surrounding the issuer's inquiry. One potential control is for the issuer to prepare a detailed 506(d) questionnaire identifying those convictions, administrative sanctions and other violations that would lead an individual or firm to be considered a "bad actor," requiring such persons and entities associated with the offering to attest to any disciplinary activities. The issuer should retain a copy of this completed questionnaire as evidence of a "factual inquiry" into any possible disqualifications.
Additionally, under Rule 506(e), for disqualifying events that occurred before September 23, 2013 (the effective date of the "bad actor" rule), issuers may still rely on Rule 506, but will have to comply with the disclosure provisions of Rule 506(e). This provision requires issuers to provide a written description to purchasers about pre-existing "bad actor" events within a reasonable time before the 506 sale. You can read more about the disclosure requirements here.
For more information about Rule 506(d) as contained in last month's Legal Tip, please click here, and/or for assistance with the development of your questionnaire, contact us at info@jackolg.com or (619) 298-2880.